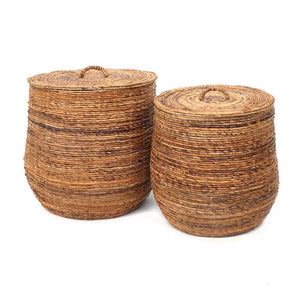 Estimated Arrival: Between Jun 15 and Jul 10. *ETA Applies to North America.
Shipping & Returns: Free Shipping over $39. Returns: Any manufacture defects, shipping damages, or any order error made on our end.
Laundry baskets. Towel storage. Eco laundry baskets. 
Check out this set of two beauties handwoven with banana leaf! Doing the laundry might be a chore but having a laundry basket that suits you should help! They have a lid which makes them the perfect all-rounders to clean up your home at any time. Can be a towel storage in your bathroom! 
PROPERTIES
Length (cm): 45 - 52
Width (cm): 45 - 52
Height (cm): 52 - 56
Color: Natural
Material(s): Banana Leaf
Pieces Included: 2

MATERIALS
Banana leaf furniture is made of dried, sustainable fibers of the banana leaf plant. Beautifully braided and woven to create natural and eco-friendly materials.
MAINTENANCE
Clean your banana leaf pieces with a sponge or brush, a bucket warm water and detergent. After that you rinse the furniture with cool water and get rid of all the soap. Do not leave wet furniture in the sun or allow it to air dry. You need to dry off the furniture completely with a clean rag.
Protect your banana leaf furniture from mold by avoiding placing it in a wet environment. If you are planning on using it outside, it is best suited in a warm, dry climate.
---