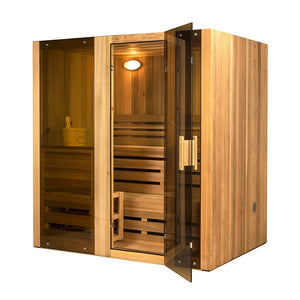 Estimated Arrival: Between Sep 30 and Oct 25. *ETA Applies to North America.
Shipping & Returns: Free Shipping over $39. Returns: Any manufacture defects, shipping damages, or any order error made on our end.
This Sauna design is both stylish and functional, providing maximum usable space while minimizing excessive cubic feet.
The compact size enables a simple and fast heat time.
This beautifully designed indoor sauna's entrance features a tempered glass door with a wooden door handle, making it a stylish addition to any home.
The toughened brown, tempered glass door contributes to a quiet, relaxing environment, and remains undamaged by temperature changes.
The 3 KW ETL certified electric heater with heated rocks is made for dry or wet sauna experiences.
The accompanying bucket and scoop allow you to activate the steam by pouring water over the hot stones, boosting temperature and humidity for maximum health benefits and relaxation.
Assembly is simple and can be accomplished in just a few hours with the help of our instruction manual. 
Specification:
Dimensions: 59x51x75 inches"
Made with durable Hemlock, partially pre-assembled construction with built-in venting holes and brown toughened glass doors 3 person versatile wet or dry steam capable indoor sauna with (2) benches (2) levels
Sauna Benefits: Sleep better, stimulate blood circulation, increase metabolism, prevent heart disease, relax tired muscles/joints, heal colds and flu, eliminate fatigue, Clean and nourish skin, reduce fat and keep fit, Relieve muscle and joint pain, flush toxins from the body.
Included with Sauna Purchase: Wooden Bucket with Scoop, Thermometer/Hydrometer, Anti-explosive Lamp, Heater Fence, ETL approved 3KW Electrical Heater with Touch Screen Control Panel and 44 pounds of Sauna Stones. 
---